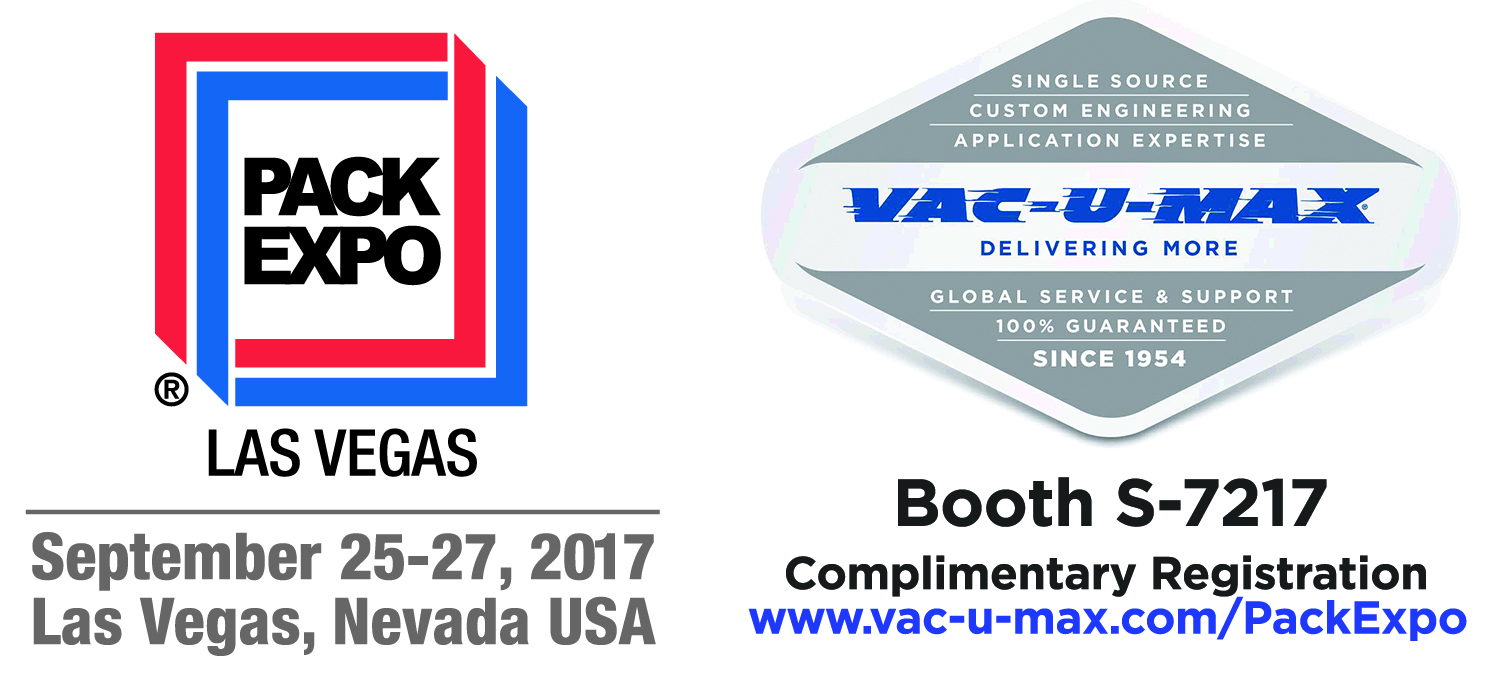 VAC-U-MAX proudly announces exhibition at Pack Expo 2017, September 25-27, Las Vegas Convention Center, Las Vegas, Nevada, Booth S-7217, exhibiting "Ready-to-Operate" processing and packaging solutions for powder and bulk-ingredient transfer to filling machines and packaging lines. Specializing in the design, manufacture, engineering, and automation of processes, VAC-U-MAX combines state-of-the art electronic technology with innovative mechanical and pneumatic conveying technologies, designing systems for conveying, weighing, and batching dry bulk materials. Equipment on display includes:
Refilling Filling Machines via Vacuum Conveying Systems
VAC-U-MAX Vacuum Conveying Systems are designed to convey a wide range of bulk-ingredients including powders, flakes, pellets, tablets, capsules, gel caps, food ingredients like coffee, beans, nuts, raisins and other materials like bottle caps, glue chips, and corks. Each "Ready-to-Operate" system consists of five components: pick-up point, convey tubing, vacuum receiver, vacuum producer, and UL-Listed controls. VAC-U-MAX controls dictate the amount of time the system conveys product to-and-from the receiver to the refill machine. Visit VAC-U-MAX Booth S-7217 and preview a working demonstration.
Sanitary Vacuum Conveying for Powders & Combustible Dusts: FDA, USDA, 3A-Dairy Accepted
Serving the global Food / Pet Food, Snack Food / Tortilla, Beverage / Dry Powdered Dairy, Bakery, Pharmaceutical / Nutraceutical Industries since 1954, VAC-U-MAX sanitary receivers offer the most versatile solution for handling free and non-free flowing powders and other dusty and difficult-to-convey materials. VAC-U-MAX systems offer continuous and/or batch conveying, including hopper loading, feeder refill, blender / mixer loading, batch weighing, tablet press loading, or any application that requires high level sanitary designs, frequent cleaning, or material-from-air separation. Many configurations are available dependent on conveying applications. All components are constructed from 316L Stainless Steel & USDA accepted.
NEW! Model 15 Combustible Dust Air-Vac for Food Processing Environments
VAC-U-MAX introduces the newest member of its Combustible Dust Vacuum Cleaner product line – the MDL15. This new model avoids expensive electrical components and uses the VAC-U-MAX venturi power unit, proven to have the lowest compressed air consumption in its product class. The MDL15 fills a niche between VAC-U-MAX's 5-gallon hand-held vacuum and the 30-gallon model for combustible dusts. Model 15 is designed for fine powders with a static-conductive PTFE primary filter and secondary cartridge filter. Unit collects powders in off-the-shelf static-conductive polybags which eliminates the mushroom cloud that comes with drum dumping. Standard construction is 304SS/316SS with bead-blast finish, and is suitable for food environments. Model 15 is also equipped with static-conductive compressed air hose, casters, ATEX-certified vacuum hose and complete cleaning tool kit. For more information visit www.vac-u-max.com/MDL15.
Other industrial vacuum cleaners on display include:
Model 40008SS: Stainless Steel Combustible Dust Air-Vac for Fine Powders – Air Powered – No electricity!
VAC-U-MAX MDL40008 Stainless Steel Industrial Vacuum Cleaner features pulse-jet filter cleaning system for Class I explosion-rated environments (gases and vapors). The 30-gallon air-powered unit is completely grounded and bonded, meeting NFPA 77 requirements. VAC-U-MAX air-powered vacuums do not use electricity and do not generate heat, meeting the definition of an "Intrinsically Safe System".
Model 40012: Combustible Dust Air-Powered Vacuum Cleaner for Fine Powders- Air Powered - No electricity!
VAC-U-MAX MDL40012 Industrial Vacuum Cleaner features a pulse-jet filter cleaning system for Class II, Division 2 environments. The 55-gallon carbon steel air-powered unit is completely grounded and bonded, meeting NFPA 77 requirements. VAC-U-MAX air-powered vacuums do not use electricity and do not generate heat, an "Intrinsically Safe System". Units are available in single (30 & 55) and twin venturi (55 only).
Model 850: Continuous-Bagging System for Fine Powders / Dusts
VAC-U-MAX MDL850 Industrial Vacuum Cleaner is designed to reduce operator exposure to fine powders and dusts, improving material handling of dusty debris. This continuous-duty industrial vacuum is equipped with a continuous-bagging system that eliminates manual dumping of a drum or rigid collection container. Closed bags prevent fugitive dust clouds, with the MDL850 containing a unique filter cleaning system that eliminates the need for compressed-air and solenoid controls. Primary filters are non-stick and secondary filters are standard.
To learn more about VAC-U-MAX's expertise in bulk material handling and industrial vacuum cleaning, stop by Booth
S-7217 or visit www.vac-u-max.com/PackExpo and register for a complimentary expo pass.